Teaching Tips for Sunday School Volunteers
New to teaching? Looking for new ways to reach your students? Below are some ideas, techniques and hard-learned lessons.
Tips for Teachers
In this article are my top suggestions to new or overwhelmed Sunday school teachers. It starts...
"Get them moving Incorporate movement into the activities as much as possible. Kids will move during class. It's much better to control that movement than to let it happen "their way"..." MORE
Jesus the Master Teacher
by Betty Belue Haynes - an article about learning from the example of the Master teacher, Jesus.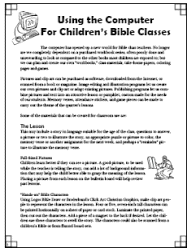 Creating class material with your computer
"The computer has opened up a new world for Bible class teachers. No longer are we completely dependent on a purchased workbook series, often poorly done and
unrewarding
to look at compared to the other books most children are exposed to; but we can plan and create our own "workbooks," class materials, take-home papers, coloring pages and games..."
MORE
PDF Handout of this Article
.
Assemblies of God USA
Breaks students down by age, how they learn and how to teach, discipline, etc.
Eldrbarry's storytelling
How to become a great storyteller, with scripts for Bible stories.
$ CalvaryCurriculum.com
Training for teachers various aspects of teaching in Sunday School.
$ Christian Parenting Cheat Sheets
Easy to reference, topical studies designed to help parents (and teachers) address specific topics with lessons, activities and object lessons.