Available from Christian Book Distributors
Classroom Bible Timeline, 10 Ft
Keep Bible events straight; on the wall and in your mind! More than 140 important people and events, including 10 key periods of Testamental history; the patriarchs; sojourn in Egypt; Exodus wanderings; judges; Saul, David, and Solomon; divided kingdom; Babylonian exile; Jerusalem rebuilding; life of Jesus; and the lives of the apostles are outlined. Four panels measure 10' x 11" total. From the Publisher: (ages 3-5) Simple, familiar Bible verses with finger play actions and illustrations to help children learn. Reproducible.
---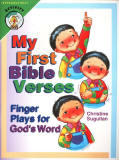 My First Bible Verses:
Finger Plays for Gods' Word

From Kim: These are great helps for learning motions that go with Bible verses and songs. What you learn from this book can help you make up your own to other verses. Large, plentiful images leave no doubt as to how to make the motion.