Activities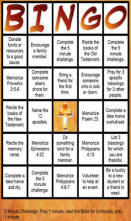 Incentive Bingo page
use these Bingo cards as a way to keep students engaged throughout the week.
Review Activities Page
I believe all classroom activities and games should serve to reinforce the lesson and its application. These Sunday School activity and game ideas can help review and repeat important points, and can be adapted for any lesson.

Memory Exercises Page
Memorizing scripture and Bible lists can be daunting for students, but children are the best at it, and the payoff is forever. These Bible memorization activities can reinforce an important message or useful information learned by rote.

Acting / Drama Activities Page
When we walk in someone else's shoes for a while, we both remember and understand them better. Acting can put students into the lesson like nothing else. And it doesn't have to be a big production. This page has ideas for incorporating drama into Sunday School lessons

Art Projects Page
Not all students learn best by listening or writing. Art allows students to create and participate, to see, feel and touch the lesson.

This page provides art activities for Sunday school classes.

Song Activities Page
Songs are one of the most effective memorization tools around. Singing is also more emotional; it opens our heart to the message. There are lots of ways to incorporate music and song into Sunday School lessons.

Throw & Tell Balls: All About Me: Children's Ministry


Have fun, connect kids in your group, and fill extra lesson time in children's church with this version of the Throw & Tell Balls: All About Me! Questions include: "Where's the most exciting place you've ever been and tell us about it?" "What's your favorite food and why?" "Who is your hero and why are they your hero?" 52 relationship-building opportunities on one colorful, sturdy plastic ball that break the ice and get kids talking.

Outburst, Bible Edition
By Cactus Game Design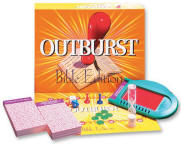 The best selling game of verbal explosions now comes in a fun-filled Bible edition! Outburst Bible Edition is an uproarious party game filled with challenging and entertaining Bible topics. Each topic has 10 target answers. How many can you get?

The fun begins when your team draws it's very first topic. It could be "Names for Christ," or "Animals in the Bible," or "Sons of Jacob." Pandemonium reigns as the 60-second timer is turned over and the verbal explosions begin.

There are 252 topics, a molded card viewer, bonus points, passing chips, and hours and hours of un in this non-intimidating, laughter-filled game that only takes about an hour to play. Recommended for two or more players in teams, ages 8 and up.

Teaching Tip
Kids learn differently. Some learn best by doing, others by reading, others by expression. Vary your reviews to include all these styles.