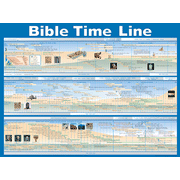 Bible Time Line, Laminated Wall Chart
By Rose Publishing

Bible Time Line shows hundreds of facts in biblical history. Includes dates of kings, prophets, battles, and key events. Compare Bible history, world history, and Middle East history side-by-side. Colorful photos and illustrations. 10 pt. type makes it easy to read. Reproducible worksheets and handouts on the back. Measures 19" x 26" and is laminated for durability.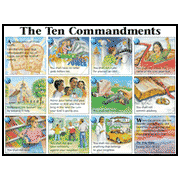 NIV Ten Commandments (pictures), Laminated Wall Chart
By Rose Publishing

The Ten Commandments (New International Version) helps children and youth understand how God's rules apply to their lives. Includes the "promise" about honoring parents that goes with the fifth commandment. The teaching pictures help them understand concepts like "no other gods" and "no graven images." This chart will help students memorize the Ten Commandments, and make the commandments relevant for today. Reproducible worksheets include teaching tips and ways to apply the commandments to your life. Laminated. 19.5" x 26".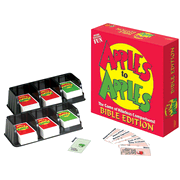 Apples to Apples, Bible Edition Game

Expand your "core" knowledge of Christian history with this hilarious, award-winning game! Apples to Apples ® Bible Edition brings the award winning card and party game, Apples to Apples®, to the Christian community. Players will delight in the clever comparisons while expanding their knowledge of the Bible. Comparing people, places, things, and events, players match their cards with the judge's. The closest match wins the round. But you've got to be fast, because if your card is the last one on the table, you lose! Inside you'll find 432 Red Apple cards, 144 Green Apple cards, 2 card trays and quick play rules. Games are fast--about 20 to 30 minutes per game, and it's an easy game to learn. Recommended for 4 to 10 players, ages 9 and up.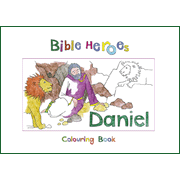 Daniel Colouring Book
With the extra detail and block words for coloring in, this book challenges children to develop their hand eye coordination that little bit further. With the example of Daniel who obeyed, followed, loved and trusted in God, this book is an excellent way to introduce children to the human interest stories of the Bible as well as showing God's interest in us. Recommended for ages 6 to 8.