Build scenes from the story using Legos.
You can get ideas from books like: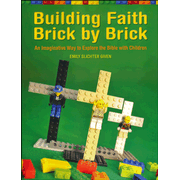 Building Faith Brick by Brick: An Imaginative Way to Explore the Bible with Children
By Emily Slichter Given

Dig into your bin of LEGObricks and start Building Faith Brick by Brick! Children in Kindergarten through 5th Grade engage the Bible and use their imaginations by creating the stories with these ubiquitous and immensely popular building bricks.
Fifty-four lessons (30 OT & 24 NT) guide teachers from prayerful preparation, introducing and telling the bible story, asking 'Building Questions' and suggesting 'Blueprints' when kids need suggestions before building. Snack suggestions are also included! Bible story Scripture references are provided, so you may use the translation or age-appropriate version of your choice.